Nå er nominasjonene sendt inn til Bokbloggerprisen 2017. Jeg kan avsløre at av det jeg har lest, så ble fire nominert til årets roman og ei til åpen klasse. Jeg trodde jeg hadde lest flere norsk2017 bøker enn det jeg faktisk har gjort; grunnen er nok at jeg har fått en liten overdose norsk samtidslitteratur. Jeg er uansett spent på hva som dukker opp på langlista, og håper jeg rekker å lese noen før jokeren skal inn (edit: langlista er ute. Og jeg har lest 2/6 romaner og 1/6 i åpen klasse. Jeg har allerede mine jokerkandidater klare, så da er det jo null stress. I år skal jeg få til å lese kortlista i begge klassene.)
Her kommer kortomtaler i kronologisk rekkefølge, minus Chicks o'hoi av ANP og Tørst av Jo Nesbø fordi jeg gidder bare ikke.
Berge av Jan Kjærstad
En toppolitiker og familien hans blir funnet drept på ei hytte i Nordmarka. Vi følger Berge som er en eks av dattera i familien, en journalist og dommeren i saken i ettertida. Jeg likte historien, men syns det ble litt vanskelig med at det skulle være en 22. juli historie og samtidig ikke være det. Hvis det ikke skulle være det; hvorfor ikke bruke et fiktivt parti? Tre måneder etter jeg leste boka husker jeg faktisk ingenting av historien – og det er et dårlig tegn. Sikkert min feil, og ikke bokas.
 
Talte dager av Heidi Linde
 Vi følger et knippe mennesker som alle strir med sitt et par dager før ei ulykke inntreffer. Jeg liker menneskene i boka, de er troverdige og det var lett å bli revet med. Pluss for lærerliv og finske gener (lett å kjenne seg igjen i). Linde har blitt en av forfatterne som jeg skal følge forfatterskapet til.
The Hills av Matias Faldbakken
Historien følger en kelner på the Hills, en av Oslos veletablerte restauranter og hans interaksjon med gjestene og kollegene sine. Ideen bak boka er god, og selv om den var velskrevet og til tider underholdende, så klarte jeg ikke å ta karakterene eller settingen seriøst. Det ble rett og slett for utenkelig for meg at man blir så opptatt av gjestene sine og at man blir helt satt ut av den minste uregelmessighet.


Fanny og mysteriet i den sørgende skogen av Rune Christiansen
Fanny bor alene i barndomshuset etter at foreldrene dør. Hun går på videregående inne i byen, har sine rutiner og er ganske ensom. Hun utfører liksom bevegelsene, men er ikke til stede, og bruker mye av tida på å tenke på det som har vært og det som ikke er der. Boka er fin og stillferdig, men jeg syns den manglet driv eller noe.

Begynnelser av Carl Frode Tiller 
 Terje ligge på sykehuset etter et selvmordsforsøk og har sine nærmeste rundt seg. Historien begynner i nuet og går tilbake i tid, og vi får innblikk i hvordan Terje og livet hans har vært og hva som får han til å ta de valgene han gjør. Boka er sår, brutal og nydelig. Og Terje er en person det er lett å like (og kjenne seg igjen i), selv om han ikke virker helt enkel å ha med og gjøre. Den soleklare norsk2017favoritten for min del. 
 Grensen av Erika Fatland
 Obligatorisk lesestoff for oss som er oppvekst på russergrensa. Og jeg kosa meg glugg! Å reise rundt grensa til Russland høres ut som en god ide, men er nok galskap når man tenker på avstand og ikke landene som ligger rundt Russland. Jeg fant noe fascinerende ved hvert land, og lo så høyt enkelte ganger at mamma spurte hva jeg lo av. Da ristet jeg bare på hodet og svarte Sovjetunionen. Boka er rett og slett fantastisk og inspirerende (noen som blir med til Georgia i sommer?).  Hvis jeg må trekke ned noe, så savnet jeg flere kart (særlig over utbryterrepublikkene).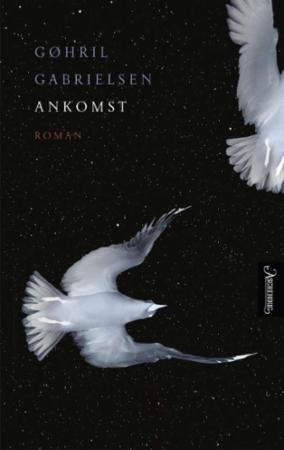 Ankomst av Gøhril Gabrielsen 
En kvinnelig forsker skal tilbringe en periode alene på et ensomt sted langs Finnmarkskysten. Det er mørketid og gradvis dekning. Vi følger hennes kamp mot elementene og ensomheten, hun har et turbulent forhold bak seg og har akkurat innledet et forhold til en annen mann. Hun tenker også stadig på de som har bygd huset hun oppholder seg i, og ser rett og slett syner på høylys dag. Boka er drivende, men jeg har nok lest litt for mange lignende historier til at det gjør særlig inntrykk (sjekk ut Sarah Moss og Michelle Paver). Og jeg ønsker meg mindre bruk av kolon og mer innhold.
(note to self: skriv om bøkene med en gang du har lest dem, og ikke månedsvis senere.)